<言語の切り替え:日本語>
Colouring the scent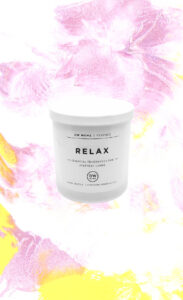 BRAND: DW Home
CANDLE NAME: RELAX – White Patchouli
– Notes –
Herbs, Citrus aldehydes, Lush greens, Narcissus blooms,
Tree moss, Balsamic myrrh, Spiced vetiver, Ambered patchouli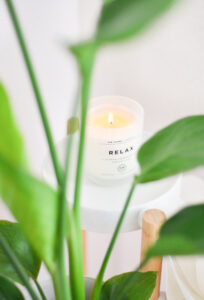 RELAX from DW Home
DW Home is a fragrance candle brand founded in 1996 in California, USA.
This brand is popular for its range of scents and label/vessels design.
I checked the website and there are over 340 scents.
To be able to buy large size at a reasonable price (US market price) is one of the reasons for the popularity of DW home candles, but I believe that the branding is the main reason for the success in differentiating DW home candles from Bath & Body Works and Yankee candles, which also offer a wide range of scents at a similar price.
The label design is simple and unified, and there are so many different coloured vessels such as pastel, gradation so when you look at the list of candles on the website, it makes you want to collect it.
The lid is also included, so you can close it when you didn't burn the candle well and not worrying about it spoiling the look of the room.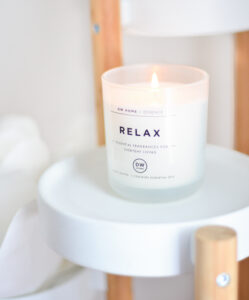 When you see a candle named "Relax", it is easy to imagine a scent like lavender but it was a different kind of "Relax".
This candle has a clean, soapy scent with a hint of white floral sweetness, which matches very well with this translucent white candle vessel.
Also, when you look at the bottom of the candle, it says White Patchouli.
With this size (255.85g), I burnt it in my living room and the strength of cold/hot throw was just about right for me, not too strong but not too weak.
I couldn't find this RELAX candle in Japan,(It was gifted a few years ago from my friend from the U.S.) but I found a website that sells DW Home candles in Japan so if you are interested, please click here(Website in Japanese)
●Reference price (US)
 ▷Medium Single Wick 9.3oz(264g) $14.00(The size on this post)
 ▷Medium Double Wick 15.3oz(434g) $18.00