<言語の切り替え:日本語>
Colouring the scent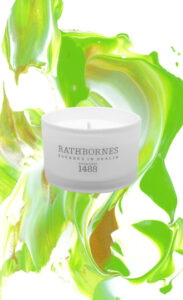 BRAND: RATHBORNES
CANDLE NAME: Wild Mint, Watercress & Thyme
– Notes –
Mint, Lemon, Eucalyptus, Camphor, Rosemary, Thyme, Ginger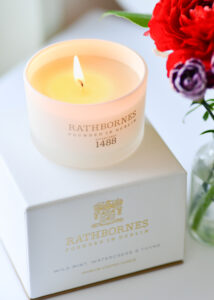 Wild Mint, Watercress & Thyme from RATHBORNES
RATHBORNES is a candle manufacturer founded in Dublin, Ireland in 1448.
I was surprised when I found out that Cire Trudon was founded in 1643, but there is an even older candle manufacturer in Ireland. Could it be the oldest candle maker in the world?
John G Rathborne, the founder of RATHBORNES moved from Chester, England to Dublin, the capital of Ireland, in 1488 and established his candle company in Wynetavern/Winetavern Street. RATHBORNS's candles were used to supply the streets, lighthouses and churches of Dublin.
They use a unique blend of waxes to ensure a cleaner, slower burn, whilst still retaining the traditional methods. They also still pour their candles by hand.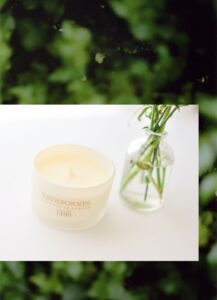 I have never bought a mint fragrance candle before so I was pleased to have an opportunity to light this candle as it was a gift from a friend. The travel size I lit is the smallest in the collection, but this candle had beautiful throw on both cold and hot.
It is a refreshing scent that works very well for lighting in the morning. I also light it in the evening when I wanted to change my mind and concentrate on my work. The refreshing scents of mint, thyme and ginger helped me to clear my head.
The fragrances theme are based on Irish landscapes and local plants that are loved by the Irish people for centuries. There are five or six scents to choose from.
The Wild Mint scent is a neutral scent that will make a great gift for both women and men. And speaking of gifts, RATHBORNES has won the 2019 Japan Gift Award for promoting cultural exchange between Ireland and Japan. I heard that the candles are also a novelty item for Jeep in Japan.
I'm also interested in the scent "Dublin Down" and "Bitter Orange" and the new Botanical Bee Collection. I hope to try it one day soon.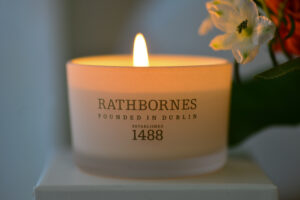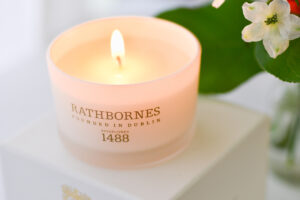 ●Reference price (Irland)
 ▷Travel (75g) €21.00(The size on this post)
 ▷Classic (190g) €40.00
 ▷Botanical Bee Collection (210g) €45.00