言語の切り替え: 日本語
Colouring the scent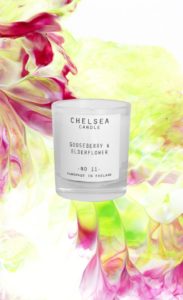 BRAND: Chelsea Candle
CANDLE NAME: Gooseberry, Elderflower
– Notes –
Gooseberry, Elderflower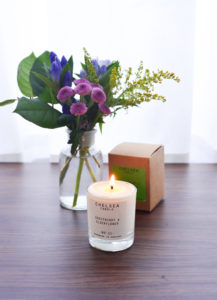 Gooseberry & Elderflower from Chelsea Candle.
Founded in 2015, Chelsea Candle is a British candle brand.
The brand is named after its founder, Chelsey O'Neill.
Chelsea Candle sells globally, including online marketplace Wolf & Badger with stores in London and New York, and has collaborated with major fashion brands such as Karen Millen and Urban Outfitters to create custom-made candles for their stores.
All of their candles are handmade in Kent, a county in south-east London.
Kent is a lovely area with idyllic countryside with many historic castles and beautiful white cliffs along the coast.
Canterbury in Kent, famous for its UNESCO World Heritage Site, Canterbury Cathedral, is only about an hour and a half by train from London.
Each candle is carefully hand-poured from a natural location and is filled with scents inspired by Chelsey's memories of her hometown in Kent and her many travels.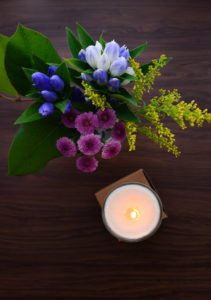 I personally think that burning a candle in a room with the air conditioner on in the summer is a luxury of doing something opposite to the season, like turning on the heater and eating ice cream in the winter.
Even the air conditioner is on, I didn't feel like burning a large candle, so I decided to burn a small size candle.
The Gooseberry & Elderflower scent is perfect for summer and has a bright and refreshing "early summer" feel to it.
Especially since the rainy season has been long this year and it is boiling hot right now, I was able to enjoy the "early summer" in my room.
They use soy wax so it melts beautifully and the scent is not too strong or too weak, so it was just perfect for having on my desk.
I felt that the two(Gooseberry and elderflower) blended so well, expressing a fruity refreshing and slightly sweet scent.
I had this candle from a friend of mine who bought it at Spiral Market in Aoyama a few years ago but unfortunately, they don't sell it anymore.
Chelsea Cando ship items to Japan so I will consider buying from their online store or their Etsy shop next time.