<言語の切り替え:日本語>
Colouring the scent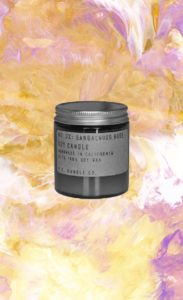 BRAND: P.F.Candle Co.
CANDLE NAME: No.32 Sandalwood Rose
– Notes –
Sandalwood, Oud, Patchouli, Moss, Iris, Violet Leaf, Cashmere Rose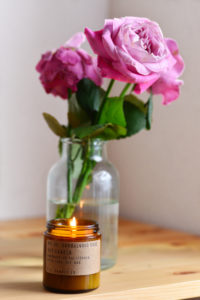 No.32 Sandalwood Rose from P.F.Candle.Co
P.F. Candle Co. is a home fragrance brand based in Los Angeles.
Run by Kristen and Thomas, P.F. Candle designs candle-based home fragrances and creates high-quality products at friendly prices.
All waxes are made from 100% U.S. grown soy wax and are developed, produced, tested, packed, and shipped by hand in their downtown LA studio.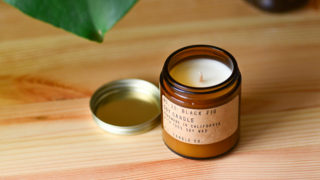 P.F.Candle Co. - No.28 Black Fig
<言語の切り替え:日本語> Colouring the scent BRAND: P.F.Candle Co. CAN...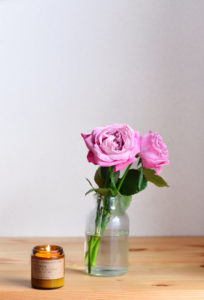 When I'm working on my computer in the afternoon, I often get surprised at how dark it got when I turned the light on.
On this day, I felt like turning on the candle and table lamp without turning on the main room light.
I thought if I naturally felt burning the candles, that might be one of the signals for the end of summer.
This was my first time using "Reels", a new feature similar to Tik Tok that was launched on Instagram.
The tungsten light and the candle flames matched so well with the P.F. Candle's amber glass, I was so happy to spend a luxurious time of relaxation.
My impression of the scent was that it felt like a soft scent that goes well with soy wax.
The floral and sweet cashmere rose scent is mixed in to soften the sandalwood-based woody scent, and I'm convinced it's popular for its unisex floral scent.
I recommended for those who like natural soft scents.
Sandalwood and Rose are both popular scents, but when I searched online, I was surprised to find that there are no other candles that have these two scents as their main ingredients.
(If you know of one that I just don't know about, please let me know!)
I thought the colouring of the scent this time was easy to understand and fit the image. What do you think?
I feel sad about summer ending, but at the same time, I'm happy it's time to start enjoy burning candles again!
●Reference price (US)
▷7.2oz   $20
▷12.5oz $28
リンク