<言語の切り替え:日本語>
Colouring the scent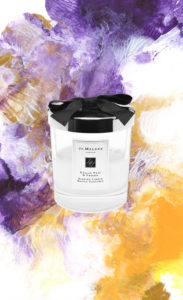 BRAND: JO MALONE
CANDLE NAME: English Pear & Freesia
– Notes –
King William Pear, Freesia, Amber, Patchouli, Woods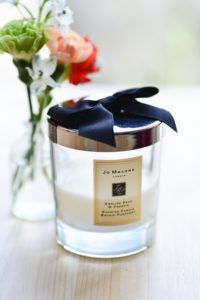 English Pear & Freesia candle from Jo Malon London.
Jo Malone London is one of the most popular fragrance brands in Japan.
The brand's founder is Jo Malone, but it was acquired by Estee Lauder in 1999.
After the acquisition, Jo continued to work as a creative director, but in 2003, she was diagnosed with breast cancer and took a leave of absence to focus on her treatment.
After that, Jo was able to recover and return to work, but in 2006, she decided to leave the company.
When she was leaving Estee Lauder, she was mentioned not to work in the same business for 5 years, and she kept her word and launched her new brand "Jo Lovers" in 2011.
(I'm hoping to write another post about Jo Lovers in the near future.)
Although she is no longer involved with the brand Jo Malone London, the conflicting scent blending she started is still loved by many people.
I didn't know until recently that the *Fragrance Combining™, which is unique and well known to anyone who likes Jo Malone London, is actually said to have been conceived by Celine Roux, who took over as creative director in 2009, sometime after Jo left.
*Fragrance Combining™ = combining different fragrances, such as cologne and body cream, to create your own unique scent.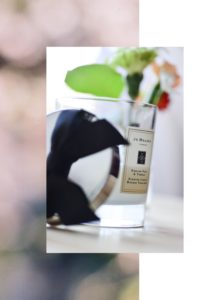 I knew English Pear & Freesia simply because it was the most popular scent from Jo Malone London in Japan.
In the City Editions candle collection, this scent has also been selected as a Tokyo edition.
I wasn't that interested in fragrance and candles at the time, so I left the store thinking that it smelled nice. A few years later, as I remembered, I decided to buy this candle.
I personally felt that the scent was a combination of the sweet and refreshing scents of pear and white freesia, with a deep scent of amber, patchouli and woods.
For colouring the scent, I used yellow, orange and white as the scent of pear and white freesia, and purple for the other deep scent colours.
As the cold throw is strong, you can enjoy the scent of the candle even without lighting it.
It also comes with a lid(home candle size) so the scent lasts longer than usual and you don't need to worry about it getting dusty.
I have a few more Jo Malone London candles, so I'm looking forward to reviewing them!