言語の切り替え: 日本語
Colouring the scent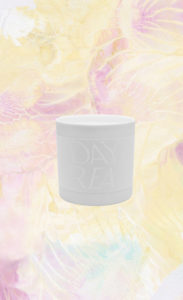 BRAND: TOBALI
CANDLE NAME: DAY DREAM
– Notes –
TOP:Spicy, Amber, Omurosakura
MIDDLE:White Sandalwood, Creamy, Cotton Flower
LAST:Cederwood, Coconut Milk, Vanilla
BASE:Hidden Japonism 834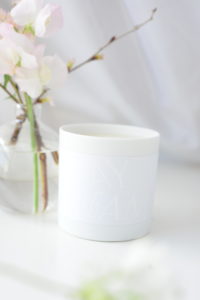 DAY DREAM from TOBALI.
I was going to write about another candle from TOBALI, but I changed it at the last minute as I bought a small cherry blossom flower and the candle theme fit perfectly with it.

There are not many Japanese brands that design scented candles, and when I was searching for candles, I found them and became interested in them, which is how I came to know about the brand TOBALI.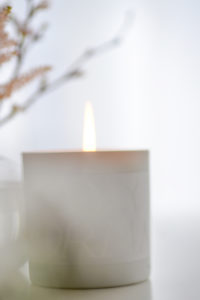 The concept of TOBALI begins with the following sentence.
Hidden Beauty
Hiding appeal inside leads to sublimation

There is a creative and avant-garde aesthetic sense that exists within the DNA of the Japanese living in these modern times. 
When I read this for the first time, I wondered if I was attracted to the unique beauty of Japan because I am Japanese, or because I spent my childhood in England and I've always had a fascination with Japan.
Putting aside my own story, I was drawn to TOBALI, which expresses the concept of Japanese beauty through its fragrances.
TOBALI uses the two methods of perfume and candles to present "hidden beauty". Each perfume has been given two opposing faces expressed through fragrance to represent "hidden beauty", such as "Seductiveness & Intellect", "Strength & Affection" and "Elegance & Insanity".
A series of female heroines, villains and supporting characters from novels and movies came to mind thinking they all have these sides.
The scented candles that are filled with the creator's thoughts and passion, you can feel/see the vision of the candle strongly, which is always like a "scene from a movie or a picture".
After lighting various brands of candles, I feel anew that this "vision(a scene)" can only be seen when the influence of the scent, as well as the design, concept, and brand, are all connected.
TOBALI which incorporates Japanese traditions.
The pottery is made of Arita-yaki porcelain, the wick is Japanese paper, and the wax is made by a long-established Japanese candle maker.
For those of you who are interested in TOBALI, I strongly recommend you to read the concept on their website.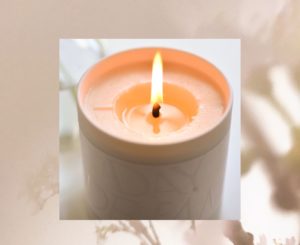 The Day Dream fragrance has a sweet scent of vanilla and coconut milk with a slightly heavier amber-cedarwood scent.
I often light them in the living room, so my impressions of the strength of the scent are a bit vague, but I felt that the strength of the scent might be a bit missing for people who normally light strong scented candles.
But I can smell the scent gently when I'm near a candle or when I'm in and out of a room or walking by it. I light it according to my mood. Some days I just want it to be weak and soft so I feel the candles don't necessarily need to be extra strong.
The concept of DAY DREAM is cherry blossoms.
Just when you start to smell the spring breeze, the cherry blossoms begin to bloom, and just when you think they are in full bloom showing off their beauty like a peacock, they fall with the wind.
To the Japanese, the cherry blossoms were said to symbolize life and death.
I never felt sad about the transience of the cherry blossoms, but rather felt the transience of the falling cherry blossoms as a beauty naturally.
Would this be a unique sense of Japanese?
DAY DREAM SCENTED CANDLE

Concealing fragility

The Omuro-zakura cherry trees at Ninna-ji Head Temple; blooming with golden flowers. With their overwhelming beauty, the late blooming Omuro-zakura cherry have been loved by the Japanese people for more than 400 years, spreading as they do across the grounds of this temple that itself is home to many culturally significant Japanese buildings and works of art. The way they bloom vividly and beautifully every year before scattering to the winds after only a short period is the perfect representation of Japanese aesthetics and fragility.

NOTE: JAPONISM SWEET INCENSE
The fragility of the cherry blossom, blooming brilliantly for a short while and then scattering to the winds.
Carefully selected white sandalwood, cherry flowers and sweetly spreading vanilla visit like brilliant, blinding light. The fragrance of a dream that comes in the middle of the day.