<言語の切り替え:日本語>
Colouring the scent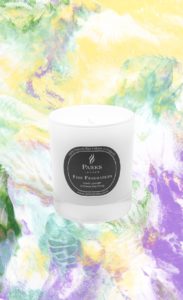 BRAND: PARKS London
CANDLE NAME: French Lavender & Chinese May Chang
– Notes –
French Lavender, Chinese May Chang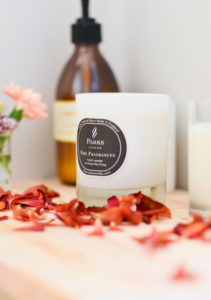 French Lavender & Chinese May Chang from PARKS London.
PARKS London is a candle-based home fragrance brand that was founded by Carol in 1989 and is still family-owned and operated today.
The company has a production facility in central England and a showroom in London's West End.
At PARKS London, they are committed to reducing the carbon footprint of each product, as well as developing processes in their labs such as *Coreless CleanBurn technology and their own original waxes (100% natural ingredients).
There is a demand for production because it is loved by so many people, but PARKS London, along with Carol's husband Sidney has helped and developed cutting edge technology and expertise to ensure that the brand's quality, fine scent and unique attention to detail is not compromised. They manufacture in their own production facility to deliver diffusers, room sprays (alcohol-free) and 100% natural wax candles from the world's leading stores, luxury hotels to homes and gifts.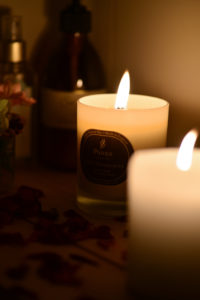 Since I became interested in candles, I started to have "candle lighting time" in my life. Normally I light candles for 2 to 3 hours at a time which is an ideal burning time for lighting candles beautifully. (It depends on the sizes, brands)
I feel because it is limited, I appreciate the time more and enjoy choosing which scent I feel like lighting today and what to do while lighting it.
When I chose this French Lavender & Chinese May Chang, I had an idea in my mind to light it in the bath, so I went to a DIY store and bought a stand which is a water-resistant Hinoki(cypress tree) cut to fit the length of the bathtub to make it like a bathtub tray.
It's the kind of candle that gently scents you when you want to relax. Lavender scent and May Chang scent with a soft creamy scent (probably from a 100% natural ingredient wax?) seemed to be mixed with a pale scent, like a pastel of lavender purples and May chang greens.
There are many kinds of herbs and natural scents, and PARKS candles are eco-friendly. At the moment, most of them are sold out online in Japan, but I'd like to wait for them to come in.