<言語の切り替え:日本語>
Colouring the scent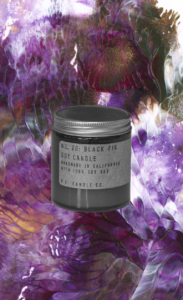 BRAND: P.F.Candle Co.
CANDLE NAME: No.28 Black Fig
– Notes –
Pine, Fir tree, Clove, Tobacco, Lavender
Mission Fig, Patchouli, Moss.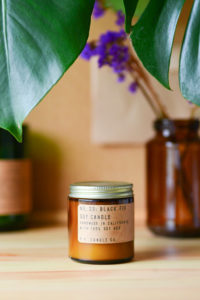 No.28 Black Fig from P.F.Candle.Co
P.F. Candle Co. is a home fragrance brand based in Los Angeles.
Run by Kristen and Thomas, P.F. Candle designs candle-based home fragrances and creates high-quality products at friendly prices.
All waxes are made from 100% U.S. grown soy wax and are developed, produced, tested, packed, and shipped by hand in their downtown LA studio.
The very simple "Kraft Paper Labeled Ambergrass Candle" is known and loved by many people as a P.F. Candle design.
The rustic modern designs and fragrances, born out of a knowledge of the free, individual and open life of California, seemed to me to be a brand that felt like it has a warmth full of a local feeling that any person could feel close to.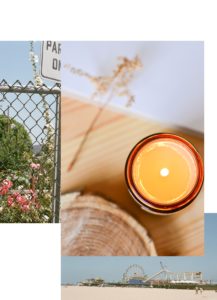 I bought my first P.F. Candle at Powerhouse Arena, a stylish bookstore in the Dumbo area of New York City. I have never bought or seen candles in a bookstore so I felt different from my usual candle shopping.
Naturally, I started to imagine myself reading a book in bed lighting a candle beside me, and then I put out the candle just before I sleep.
Since I started buying candles, I've started reading books before I go to bed at night. Of course, I would be lying if I said that I didn't have any inspiration or longing from movies and novels.
One of the fun parts of buying candles, in my opinion, is finding a scent that I like among the brands I'm interested in. There are times when I like every scent for different reasons, but I enjoy how I chose scent with my instincts because you can clearly tell whether you like or dislike the scent immediately. Also, the interesting thing about scents is that you will find a scent that you will always love and the one that you used to like it but somehow you don't anymore.
It's been nearly 2 years since I bought this candle and I still love this scent.
I found the sweetness of the intense mission figure with a pleasant aroma of lavender mixed with deeply spiced scents of pine and fir, clove, tobacco, patchouli and moss.
When I coloured the scent, there was a strong purple coming out and a deep brown and green in it. I'd love to hear the opinions of people who know this scent and how they feel about it, as the colour would change subtly every time I smelled it.
There are other scents that are very popular, they also have incense as well, so I would love to try other candles, incense as well!